T
he new year is literally around the corner, whether you're ready for it or not! That being said, don't wait another second to begin your year of slayage. 2017 will be what you make of it, so start off all aspects of your life on a fierce note.
Here's how to keep killin' it for all 365 days:
1. Twerk it out.
​
​
New Year's is always about fitness resolutions, but if you're no gym rat, don't force it. Throw yourself outside of your comfort zone, and try an activity that you've never even thought about before this moment. My go-to sassy workout is a street stiletto heels class at
Broadway Dance Center
, but if that's not you, give a
Surfset
surfboard conditioning class a go (at gyms across the country!), or join a running club like
Shack Track and Field
(yes, it's a real thing:
Shake Shack,
indeed, sponsors a fitness-related activity) and just get moving in a way that you feel most yourself.
2. Clothe yourself in fierce.
​
​
The holidays likely brought some beautiful new clothes or some gift cards to make some beautiful new clothes happen. Have a few key pieces in your closet — and this could be your favorite work blouse, it doesn't have to be club wear — that are 🔥 and pull these out when you really need to feel like there is music video smoke following you everywhere you go. If you require the brick-and-mortar experience, I always recommend
Express
or
Charming Charlie
for those fun, feel-good items, or if you're feeling real fancy, try out hand-selected pieces from a personal shopping service like
Stitch Fix
or
The Ms. Collection
.
3. Quit holding grudges.
​
​
Mental well-being is just as crucial as physical to put your fiercest foot forward in 2017. I was reading an article on the train from the January 2017 issue of
ELLE
and could barely refrain from letting out a "YASSS" right there on the Metro-North Railroad when I saw the best quote about not waiting for people who have treated you poorly to apologize. It read, "Non-apologizers tend to walk on a tightrope of defensiveness above a huge canyon of low self-esteem — they just can't listen to anything that's going to set them off balance" ("Sorry is the Hardest Word" by Harriet Lerner). Taking a step back from the haters and moving forward with grace can be the most satisfying feeling on the planet. Can't seem to kick that burning vengeful feeling in your gut after a breakup or parting ways with a friend? Check out a speakout group on a site like
Meetup
, where you can even create your own unique support group!
4. Don't deprive yourself.
​
​
Of your guilty pleasure foods, of embarking on a much-needed weekend getaway, of going out for drinks to catch up with old friends — the list goes on. Pick one time of day to treat yourself — to ice cream, a bagel, a cupcake, chicken wings, whatever — and devote the rest of the day to eating wholesome balanced meals (a meal and grocery planning app like
MealBoard
or ingredient delivery service like
HelloFresh
can help you there!) so you really will feel healthier throughout the day. If spending is your addiction, use an app like
Mint
to stay on budget if cash is tight. The coming year is all about letting yourself be a high roller and indulging in life's simple (or not so simple) joys sometimes, but knowing when to reel yourself in like a classy gal.
5. Ask for a raise.
​
​
It's time to be a boss and lobby for that bonus you deserve. One-hundred percent of women in the workplace do not get paid what they deserve, because women as a whole only earn about
80%
of what men do. Catalogue your workplace fierceness so that you have concrete examples to take to your supervisor when you have the conversation, and before you go, consider signing up for a
salary negotiation workshop
sponsored by an organization like AAUW to give you that extra boost.
6. Communicate your goals and wishes, in all areas of your life.
​
My philosophy, in anything, is if you don't explicitly state what you want, in something as easy as getting your haircut, you won't be satisfied. (Call me insane, but I've politely asked a hairdresser to fix my 'do 3 times before leaving). This goes for friendships, relationships, your morning coffee, anything. A quick, 10-minute meditation on the Mindfulness or Headspace app may help get your mind in the right space with some healthy self-talk. You can also snag a copy of "The Power of Positive Confrontation" by Barbara Pachter to practice communicating peacefully but effectively and, therefore, find your fierce place.
7. Believe you are a queen.
It's as simple as this: start every day with a subtle reminder of your most amazing qualities — it could be anything from your calmness under pressure, to your killer leg muscles, to your awesome computer skills (when in doubt think of that
video
of the confident little girl who stands in the mirror and gives herself a daily pep talk). Maybe blast your absolute anthem at the tail end of your morning commute (my personal jam right now is "
That's My Girl
" by Fifth Harmony — go ahead, judge me — but if you throw on some old school Mary J. Blige, I'm all for that as well.) Confidence is the key to all else, and most importantly, the ability to slay the game!
Cheers to the most fabulous new beginnings!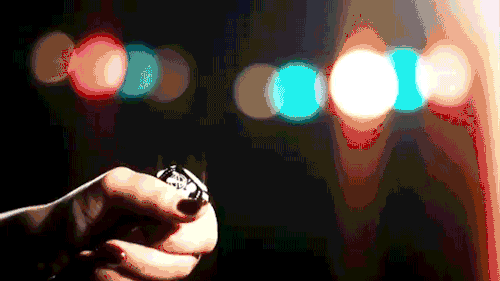 Recent Posts: